---
Congratulations to the Intensity competition teams for a great showing in Anaheim. Way to start off the new season with a strong demonstration of talent and professionalism.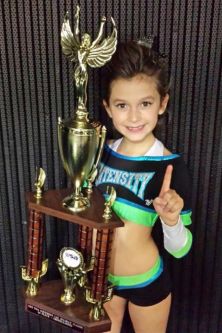 ---
Check It Out!! We are bringing you more days and times to take a tumbling class! If you are on our All Star Prep team this is a great way to perfect your basics before team choreography! Or, if you are on a Full Season cheer team or, a High School cheer squad... Enrolling in a class is a great way to help clean your tumbling and advance your skills to the next level!
---
Registration for the All Star Prep Team (Mid-Season) is OPEN
Registration ends early December! Don't wait till it's too late!
Jr. Prep ages 14 and under. Sr. Prep ages 18 and under.
Practice Day:
Wednesdays @ 5:00PM-7:00PM
---
(951) 696-2433
gina@intensityallstars.com
Gym Office Hours:
Monday - Thursday * 3:00pm-8:00pm
Friday * 5:30pm-7:30pm
Saturday * by appointment only (am)
Sunday * by appointment only (pm)
38444 Sky Canyon Drive Suite 140 * Murrieta, CA 92563